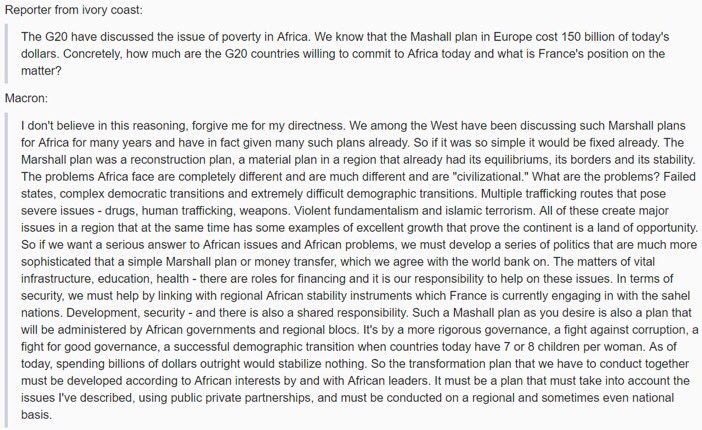 Photo: Twitter, 

France's President Emmanuel Macron called problems in Africa "civilizational", saying that "seven or eight" children are born to each woman on the continent.
Cape Town — France's President Emmanuel Macron is taking flak after calling problems in Africa "civilizational" at the G20 Summit in Germany.
Macron was answering a question from a Cote d'Ivoire journalist, who asked why there was no Marshall Plan for Africa (a huge block of U.S. economic aid for European countries after World War II). He said: "The challenge of Africa is completely different, it is much deeper. It is civilizational today. Failing states, complex democratic transitions, the demographic transition … One of the essential challenges of Africa … is that in some countries today seven or eight children (are) born to each woman."
In June this year, Macron was criticized when he joked about the makeshift craft that have been dubbed the "boats of death" because so many have sunk while transporting migrants to the French Indian Ocean island of Mayotte. This was shortly after his election victory, watched closely by millions of Africans, because any French president remains a pivotal figure in about 20 former French colonies on the continent.