Zakharchenko hopes Donetsk will become the capital of a new state comprised of former regions of Ukraine
Donetsk People's Republic leader Alexander Zakharchenko has stated that the DPR leadership is drafting plans for the creation of a new state of Malorossiya.
Zakharchenko said that the creation of a new state is necessary because DPR leadership had "come to the conclusion that Ukraine has shown itself as a failed state".
Malorossiya has been declared as a sovereign federated state with the capital of Donetsk and successor state to Ukraine. The new state's constitution will be approved after a referendum and broad discussion.

"We, the representatives of former Ukraine, declare the establishment of a new state, Malorossiya, which is a successor state to Ukraine. We agree that the new state's name will be Malorossiya because the very name of Ukraine has discredited itself. The city of Donetsk becomes Malorossiya's capital," DPR Income Minister Alexander Timofeev said while reading a constitution act on the formation of the new country.
We're not sure how realistic this plan really is, but it does provide for closer ties to Russia without formal unification with the Russian Federation.
According to Sputnik's report, Malorossiya would seek to join the Union State of Russia and Belarus while maintaining its sovereignty. Malorossiya would also seek partnership with the Commonwealth of Independent States (CIS) and the European Union.
So, it seems Zakharchenko does suggest DNR
It will be interesting to see how this plan is received by the international community. (If we had to guess, we'd venture: not very well.) However, with Ukraine spiraling the drain, anything is possible. At the very least, it's a positive step towards breaking permanently with Kiev.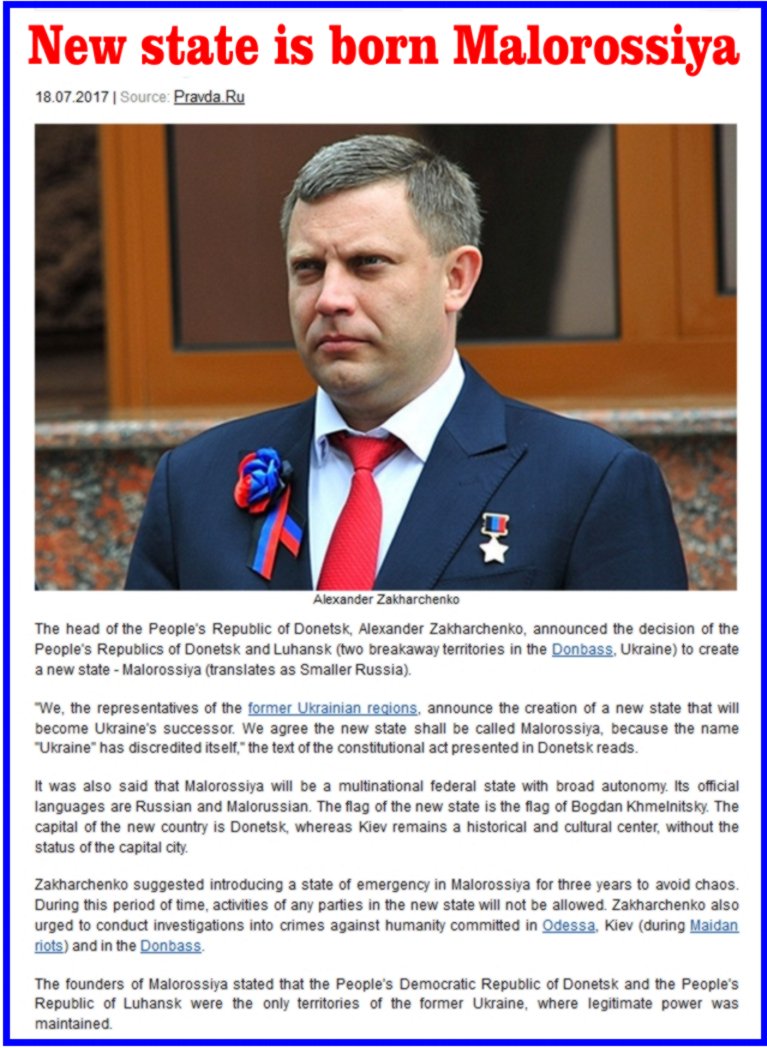 During the Holodomor in the blue areas, the native Ukraine people were murdered and replaced with Bolsjeviks, the Khazars. Khazaria is being rebuild…